News
Complex curves from Linz for the new Mariinsky Theatre (St. Petersburg)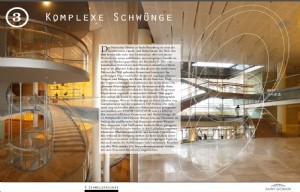 The Mariinsky Theatre in Saint Petersburg is one of the most famous opera and ballet companies in the world. Since last year, the historic 1860 built building with its striking pistachio green exterior, contrasts with a modern new building opposite, the Mariinsky II. Designed by Canadian architect Jack Diamond the new opera house is conceived as a glass cube which encloses the concert hall, containing one of the most advanced stages of the world. In the spacious foyer curved glass is a central stylistic element. Scale sculptural glass stairs and ramps open up the space for visitors. Two of the staircases swing themselves seemingly freely into the air. The glass balustrade of the cantilevered spiral staircase which connects the lower and upper lobby, follow its organic outline. This contrasts with the straight contours of the also cantilevered but rectangular second staircase. Other conjunctions in the foyer are created by an all-glass staircase and the swung VIP Bridge.
These sophisticated glass balustrades made of curved extra-white STADIP CONTOUR laminated safety glass were produced by WENNA GLASS on behalf of the contracted steel construction company Waagner Biro. A total of about five hundred running meters of curved laminated safety glass in a variety of geometries and radii were incorporated into the railings. Advanced manufacturing and continuous quality audits during production ensured their superior quality and lead to an architecturally unique result that attracts many interested visitors from all over the world, even away from the performances.
The staircase design has been awarded the Structural-Award-2013. The eNewsletter 3.21 from Saint Gobain Glass Germany (see image) and the latest issue of the Austrian Glass journal report in detail about the extraordinary project.